Blurb
Racing With the Wind
by REGAN WALKER
The intrepid daughter of an earl leaves Regency London for the Parisian
court of Louis XVIII, where she finds adventure, mystery, and above all,
love.
THE NIGHTHAWK Hugh Redgrave, marquess of Ormond, was
warned. Prinny had dubbed Lady Mary Campbell "the Swan," but no
ordinary man could clip her wings. She was a bluestocking hellion, an illadvised
match by every account. Luckily, he sought no bride. His work lay
on the continent, where he'd become legend by stealing war secrets from
Boney. And yet, his memories of Lady Mary riding her stallion were a
thorn in his mind. He was the son of a duke and in the service of the
Prince Regent…and he would not be whole until he had won her hand.
THE SWAN It was unheard of for a Regency debutante to postpone her
first season, yet Lady Mary had done just that. Far more interested in
politics than a husband, she had no time for foolishness or frippery.
Already she had assisted her statesman uncle in Paris, and she swore to
return to the court of Louis XVIII no matter the danger. Like her black
stallion, Midnight, she would always run free. Only the truest heart would
race beside her.
Author Regan Walker's Bio:
As a child, Regan loved to write stories, particularly about adventure-loving girls. But by the time she got to college, more serious pursuits were encouraged. One of her professors thought her suited to the profession of law. Regan says, "I became a lawyer because I thought it would be better to be a hammer than a nail." Years of serving clients in private practice and several stints in high levels of government gave her a love of international travel and a feel for the demands of the "Crown" on its subjects. Hence, her first romance novels involve a demanding Prince Regent who thinks of his subjects as his private talent pool. Regan says her stories will always involve adventure as well as love.
Regan lives in San Diego with her Golden Retriever, Link, who she says inspires her every day to relax and smell the roses.
Giveaway E-Book international 25
Rafflecopter
a Rafflecopter giveaway
Buy now links
• All Romance
• Amazon
• Apple iBooks
• Barnes & Noble
• Smashwords
Regan Walker Online:
website: www.reganwalkerauthor.com/
blog: http://reganromancereview.blogspot.com/
Website http://www.boroughspublishinggroup.com
Blog http://www.boroughspublishinggroup.com/blog
Facebook http://www.facebook.com/boroughspublishing
Twitter http://www.twitter.com/BoroughsPubGrp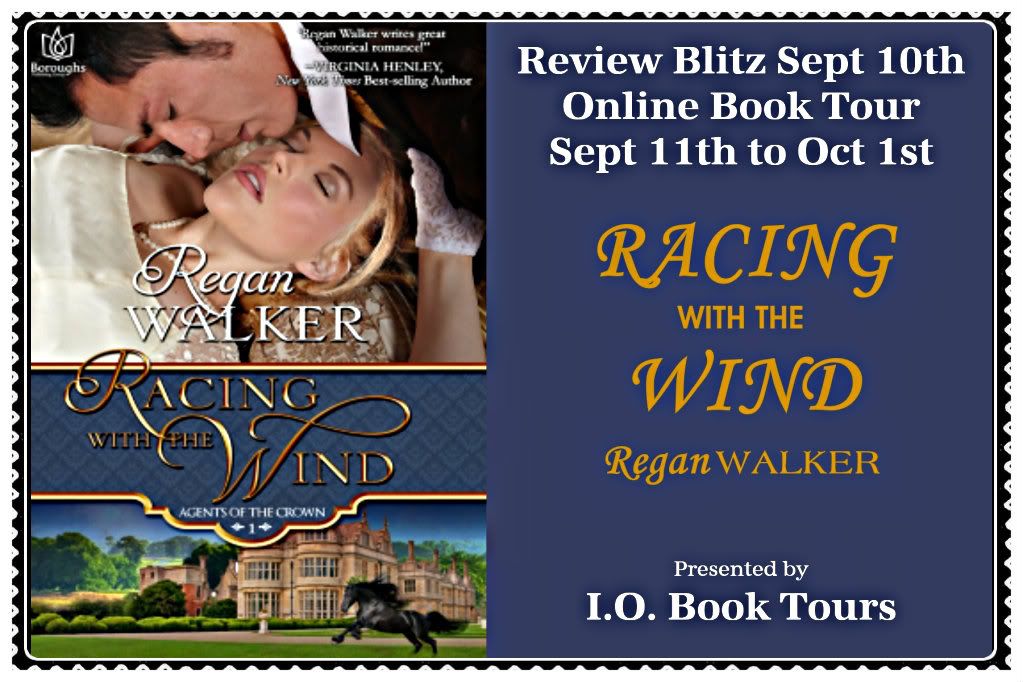 Mallory Heart Reviews on
Racing with the Wind
:
5 stars
A well-researched, enticing, and sensual novel of Regency England (and the European Continent) by author Regan Walker, "Racing with the Wind" immediately captures readers' interest with the escapades of the legendary "Nighthawk" (is he a thief? A type of residential "highwayman"? a spy? Or-?) and next with the strong-willed heroine, Mary Campbell, a woman far ahead of her era in terms of her interests, her determination, and her will to persevere as herself rather than as a cookiecutter copycat of society.
Not only is the novel enjoyable as a story (the plot lines are neatly intertwined, giving espionage, royalty, romance, mystery, and a precursor of women's movement towards autonomy), but additionally it is smoothly written, maintaining the reader's devotion. The characters are well-delineated, both the heroine and hero, as well as the secondary characters, who are too good to be called just "secondary" but instead are an important part of the novel themselves.
Ms. Walker has performed an excellent work of research and of bringing the historical details-geographical, cultural, social, political, and more-to vibrant life. The reader will feel as if she is a present observer rather than just a reader.
BLITZ 9/10
Geo Librarian http://geolibrarian.blogspot.com
LDS and Lovin' it http://ldsandlovinit.blogspot.com
The Bunny's Review http://bunnysreview.com
My Cozie Corner http://coziecorner.blogspot.com
Books, Books and More Books http://dream-reader-dreamer2229.blogspot.com/
mademoiselle Le Sphinx http://aliaaelnashar.blogspot.com
Musings From An Addicted Reader http://musingsfromanaddictedreader.blogspot.com/
huithiang! http://khamneithang.blogspot.com
Sharing Links and Wisdom http://sharinglinksandwisdom.blogspot.com/
I am, Indeed http://iamindeed.wordpress.com
Queen of All She Reads http://queenofallshereads.blogspot.com/
Mallory Heart Reviews http://archiestandwoodsreviewsandwritings.blogspot.com/
3 Week Tour
9/11 I Just Wanna Sit Here and Read! Guest Blog, First Chapter, and Giveaway
9/12 Sharing Links and Wisdom First Chapter and Giveaway
9/12 Identity Discovery Promo and Giveaway
9/13 M-N's Amazing Book Reviews First Chapter http://mnsamazingbookreviews.blogspot.com
9/13 Queen of All She Reads Guest Blog and Giveaway http://queenofallshereads.blogspot.com/
9/14
9/17 I am, Indeed First Chapter and Giveaway http://iamindeed.wordpress.com
9/17 A Chick Who Reads Review, Guest Blog, and Giveaway http://achickwhoreads.blogspot.com
9/18 Steamy Reading First Chapter http://www.steamyreading.com/
9/19 Reading Romances Interview and Giveaway http://reading-romances.com
9/20 Day Dreaming Book Reviews Guest Blog, First Chapter, Giveaway http://daydrmzzz.blogspot.com/
9/21 Kimba the Caffeinated Book Reviewer Review and Giveaway http://www.caffeinatedbookreviewer.com/
9/24
9/25 The Avid Reader Bio/Book Synopsis and First Chapter http://the-avidreader.blogspot.com/
9/26 smartmouthtexan Guest Blog, First Chapter, and Giveaway http://smartmouthtexan.wordpress.com/
9/27
9/28 Mademoiselle Le Sphinx Review http://aliaaelnashar.blogspot.com
10/1
Celestial Reviews
Review, Guest Blog, First Chapter, and Giveaway