BLURB:
The Darkening Dream
is the chilling new dark fantasy novel by Andy Gavin, creator of
Crash Bandicoot
and
Jak & Daxter
.
Even as the modern world pushes the supernatural aside in favor of science and steel, the old ways remain. God, demon, monster, and sorcerer alike plot to regain what was theirs.
1913, Salem, Massachusetts - Sarah Engelmann's life is full of friends, books, and avoiding the pressure to choose a husband, until an ominous vision and the haunting call of an otherworldly trumpet shake her. When she stumbles across a gruesome corpse, she fears that her vision was more of a premonition. And when she sees the murdered boy moving through the crowd at an amusement park, Sarah is thrust into a dark battle she does not understand.
With the help of Alex, a Greek immigrant who knows a startling amount about the undead, Sarah sets out to uncover the truth. Their quest takes them to the factory mills of Salem, on a midnight boat ride to spy on an eerie coastal lair, and back, unexpectedly, to their own homes. What can Alex's elderly, vampire-hunting grandfather and Sarah's own rabbi father tell them? And what do Sarah's continuing visions reveal?
No less than Gabriel's Trumpet, the tool that will announce the End of Days, is at stake, and the forces that have banded to recover it include a 900 year-old vampire, a trio of disgruntled Egyptian gods, and a demon-loving Puritan minister. At the center of this swirling cast is Sarah, who must fight a millennia-old battle against unspeakable forces, knowing the ultimate prize might be herself.
Online Reviews
"Wonderfully twisted sense of humor" and "A vampire novel with actual bite" -- Kirkus Reviews
"Inventive, unexpected, and more than a little bit creepy!" -- R.J. Cavender, editor of the Bram Stoker nominated Horror Library anthology series
"This book will satisfy any fan of the vampire genre and then some!" -- Must Read Faster
"In a similar vein to George R.R. Martin's writing style, Gavin often dangles his characters in the maws of danger and doesn't shy away from ... their blood being spilled." -- Andrew Reiner, executive editor of Game Informer magazine
"Now this is a vampire novel! It flows so perfectly between character point of views, it's a great blend of historical fiction, mythology and paranormal." -- Little Miss Drama Queen Reviews
"Action-packed and suspenseful, and there were twists all over the place." -- Les Livres
"Andy Gavin has taken a bevy of supernatural elements, compelling characters, and an intricate and superbly developed storyline, and expertly weaved them together to create an original and enthralling book." -- Word Spelunking
BIO:
Andy Gavin is a serial creative, polymath, novelist, entrepreneur, computer programmer, author, foodie, and video game creator. He co-founded video game developer
Naughty Dog
and co-created
Crash Bandicoot
and
Jak & Daxter
. He started numerous companies, has been lead programmer on video games that have sold more than forty million copies, and has written two novels including
The Darkening Dream
, a dark historical fantasy that puts the bite back in vampires.
ONLINE LINKS:
website:
http://all-things-andy-gavin.com/
FB:
https://www.facebook.com/andygavin
Twitter:
https://www.facebook.com/andygavin
GR:
http://www.goodreads.com/asgavin
Pinterest:
http://pinterest.com/andrewgavin/
Wikipedia:
http://en.wikipedia.org/wiki/Andy_Gavin
BUY NOW LINK:
Amazon:
http://www.amazon.com/The-Darkening-Dream-ebook/dp/B006PIMYLY/ref=sr_1_2?ie=UTF8&qid=1351633149&sr=8-2&keywords=the+darkening+dream
Giveaway: 1 50.00 GC , 1 Signed Poster, 1 Signed Game, and 4 Bookmarks
Rafflecopter
a Rafflecopter giveaway
If you cannot use rafflecopter here is a link
http://innovativeonlinebooktours.com/-M5R8.html
" target="_blank">Rafflecopter
Button HTML Code: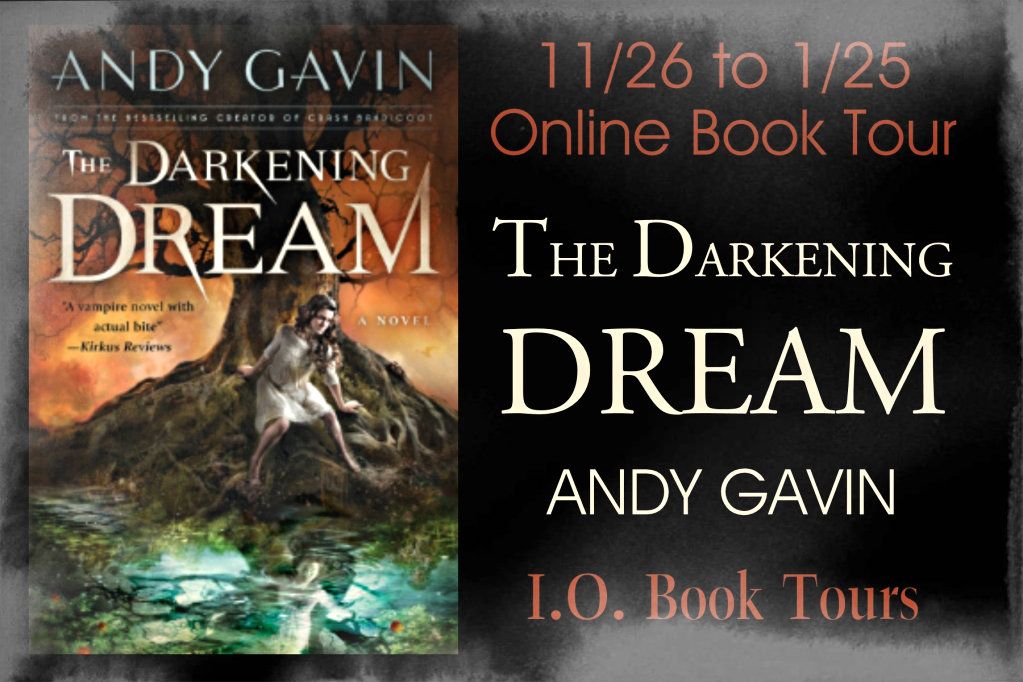 Review by Mallory Heart Reviews:
Review of The Darkening Dream by Andy Gavin
5 stars
"The Darkening Dream" is a far more complex book than I expected, and joyfully so. I raced through it, unable to put it aside till I'd finish, then ended it asking for a sequel! I truly hope there will be one. So many layers of different metaphysical possibilities and realities exist in this story that any reader of the paranormal of almost any stripe will find something to latch on to (except maybe werewolf lovers LOL). There are vampires, ancient entities, Judaism, Christianity, Archangels, Ceremonial Magick; characters who are purely evil (both in life and in death), those who are purely good, and of course, those who have tendencies to both good and evil and must constantly make the decision at any moment as to which path to trod.
In Salem, Massachusetts, in 1913 (yes, Constant Readers, THAT Salem), life is fairly smooth but an immigration problem is developing: vampires from North Africa, Egypt, and Turkey. They're all after one supremely holy object: the shofar or horn of the Archangel Gabriel, and information has directed them to Salem, to the home of a Jewish professor and former rabbi. They haven't bargained on this man's holy character, nor the strength of will of his daughter Sarah.
"The Darkening Dream" is a satisfying read on so many levels: metaphysical, Spiritual, magickal, personal, developing love, relationship, sibling strength and rivalry, and much, much more. Any reader who enjoys purely good fiction owes it to herself or himself to pick this one up and give it the time it deserves.